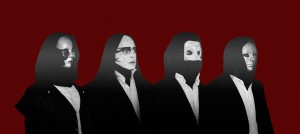 Biography
Delirio and the Phantoms is the new project of Freddy Delirio and his son, Chris Delirio. It's an evolution of the previous Freddy Delirio and the Phantoms, which has created a well-established band both in terms of record and live. To complete the training are the refined lead guitarist Paolo Oliveri, with over twenty years of record and live experiences and Alessandro Lupo on bass, also a musician with extensive concert and studio activity behind him.
Freddy Delirio, historical keyboardist of Death SS with whom he has an extensive discography produced by himself at an artistic level, has reached the top of the charts on more than one occasion (among the many records: Ten, Rock'n'Roll Armageddon, Resurrection, The Darkest night etc.) to which is added a very important live activity as a headliner.
Owner of the FP Recording Studio with hundreds of productions made internationally, he arrives at a new record and project called Delirio and The Phantoms.
The album "Platinum" produced by Fuel Records and distributed by the giant SELF Distribuzione, is the result of the collaboration of the current line-up already consolidated in the live phase.
Platinum was composed and produced by Freddy as singer and keyboardist and by his son Chris Delirio as drummer, keyboardist and multi-instrumentalist who often sees him on guitar, bass and backing vocals.