Evil Wings
Orgin

Italy

Social

Website

Genres

Progressive Metal · Rock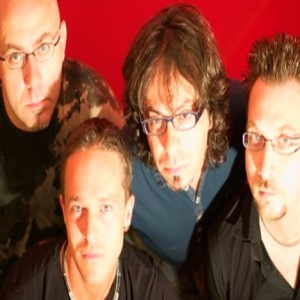 Biography
Evil Wings was first formed in 1989 but their homonymous debut-cd came out in 1994 on the label Underground Symphony. The record, an intriguing blend of progressive melodies and technically sophisticated metal riffs, was very successful, thanks especially to the great reviews it got in the specialized magazines worldwide. Meanwhile, the band began doing live shows, appearing at several festival and concerts. Thanks to their original mix of showmanship and technique, perfected during live shows, Evil Wings achieved cult status among fans of prog metal, acquiring numerous enthusiastic followers. The eagerly-awaited second opus, entitled "Brightleaf", was released in the summer of '96. The band's music was moving towards a more hard-rock style but still remaining true to its progressive roots. In 1998, the Italian band began its relationship with the newly-formed Adrenaline Records. First, the band cut a cover of "A Fortune In Lies" which leads off the double cd "Voices – A Tribute to Dream Theater". Mike Portnoy, the drummer of the
world-famous American band, is enthusiastic of the result.
In September 1999 finally their third release titled "Colors Of The New World" is out. The band shifts gears, musically, and while still reflecting their progressive origins and the classic '70s sound, the song structure becomes more melodic. With pieces like "Colors Of The New World", "Flowers" and "Searchin'", Evil Wings ranks up there with classic bands such as RUSH, TRIUMPH and KING's
X. Technical bravura (though far from absent) is now used to support the melody. With the new album "Kite", out shortly after the Summer 2001, the incredible mix among melody, musical technique and strong songwriting went further. "Kite" saw the band evolving towards a "harder" and "heavier" sound, leaving the most progressive side behind.
On April 2002 the great concert at Cenacolo Francescano Theatre in Lecco was recorded and released on the Horizons/Comet Records label. The double cd (cd + dvd) boasts an introduction by Mike Varney of Magnacarta Records (producer of big artists as Malmsteen and creator of many projects featuring the biggest names in progressive rock) and by Beppe Riva (journalist for several important Italian music magazines).
In September 2011, EVIL WINGS' long-awaited brand new cd will be released. "Kaleidoscope" marks this long-awaited return with a production that will make the line between progressive music and classic hard-rock a very thin one.
Line-Up
Franco Giaffreda: Voce,Chitarra
Walter Rivolta: Batteria
Joseph Ierace: Tastiere
Ricky "Zanna" Zanardo: Basso