Extrema
Orgin

Italy

Social

Website

Genres

Thrash Metal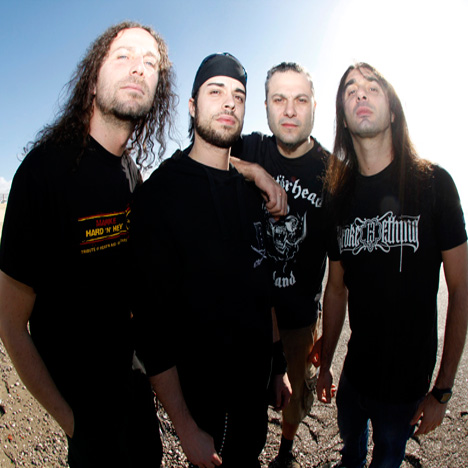 Biography
Like a record-industry big-brass commented, Extrema are "aged".
Been around the block a few times? Sure.
Seasoned veterans? You bet!
Hard as nails and ready -once again- to kick ass and take names? Hell-fuckin'-yeah!!!
Extrema have been playing heavy and fast since before many of their current fans were born, and it'd be foolish to think of it as a negative thing. They navigated through the thick and thin of it all and are most definitely not fair-weather metalheads, something that gathered around'em a faithful and cross-generational following worldwide.
The band, guided by Tommy Massara's abrasive guitars and energetic personality, started in Milan, Italy, back in 1986. However, the "classic" line-up (Tommy Massara on guitar, Mattia Bigi on bass, Cristiano Dalla Pellegrina on drums and Gianluca 'GL' Perotti on vocals) was tuned in 1989 and lasted until 2004, when Paolo Crimi -of Beerbong fame- took over drumming duties. In 2010, Gabri Giovanna replaced Mattia Bigi's on bass, completing the rejuvenation of the band and hurling it towards even more intense touring than before.
During 26 years of activity, the band released a number of albums, EPs (all recently reissued and remastered, with bonus tracks) and a DVD, toured with the likes of Motörhead and Death Angel, other than opening for Metallica, Slayer, Megadeth, Suicidal Tendencies, Korn and many others and endlessly tour on their own. Not a stranger to controversy, the band also recorded singles with Italian rappers Articolo 31, causing a ruckus in both the metal and rap communities but –in the end- winning'em all over.
2013 will see the release of their brand new album and more relentless touring.
Line-Up
GL Perotti: Vocals
Tommy Massara: Guitars
Gabri Giovanna: Bass
Paolo Crimi: Drums